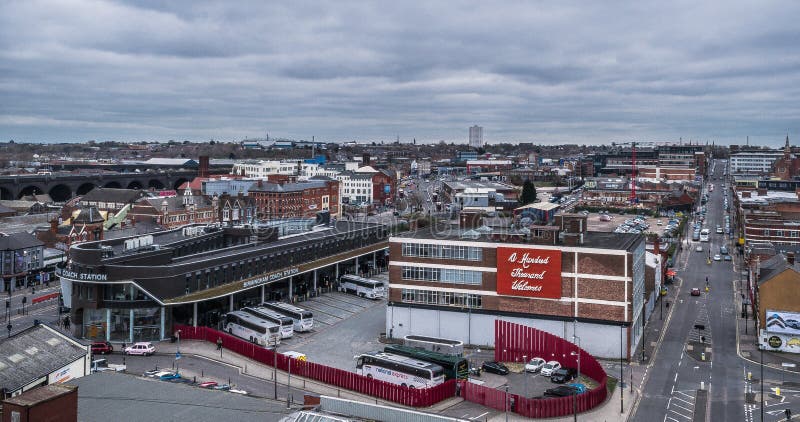 This post follows on from this one about the use of Gaeilge, the Irish language, in mid-19th century Wolverhampton. I will likely need even more correction on my Irish in this post…
Last time around I looked at the history of the Irish language as spoken in England in general, and the Black Country in particular. But what Irish was actually used in the Black Country? There's actually very little evidence. We can certainly find some of the better-known phrases, particularly at celebrations. So, at the St Patrick's Day (Lá Fhéile Pádraig) feast at Walsall's Guildhall Assembly Rooms in 1870, mottos such as "Erin go bragh" and "Cead Mille Failthe" were shown on the walls; the next year speeches there praised the "soggarths." This immediately demonstrates the challenges inherent in studying the Irish language in this period. It was by now mostly a spoken language, and far from standardised, so spellings and pronunciations differ significantly. In fact, the first Irish-English dictionary wasn't published until 1904, by Fr Patrick Dinneen. By that time a significant revival of interest in the language, spearheaded by future president (uachtarán) of the Irish Free State (Saorstát Éireann – the forerunner of modern Éire or Poblacht na hÉireann, the Republic of Ireland), Douglas Hyde. (Dubhghlas de hÍde), Hyde's Conradh na Gaeilge (Gaelic League) reintroduced the language as a marker of national pride; in the mid-nineteenth century, transliterating the spoken language was more a case of best guess.
Any genealogist who has investigated an Irish line will tell you how frustrating the varieties of spelling used by census enumerators for Irish names can be. I can't tell you how many bizarre variations I've seen for fairly straightforward Irish names. It's no different here really, simply a best attempt at describing an unfamiliar sound. With the above examples, "Erin go bragh" would now be "Éirinn go Brách," Ireland forever; "Cead Mille Failthe" would now be céad míle fáilte, or "a hundred thousand welcomes." The fada or accent above the letters is a crucial part of modern Irish but rarely made it into Victorian newsprint. A quick look on the Foclóir Gaeilge-Béarla (Irish-English dictionary) suggests that without the fada the latter phrase would be something like "permission to botch a welcome," which doesn't really sound right. "Soggarth" took a bit more lateral thinking, but would now be rendered sagart, a priest.
The digraph "th" sound, on "Failthe" and "soggarth" is a noticeable addition too. There are several dialects within Irish, and I'm not familiar enough to be able to make the link, but I suspect this relates to a particular kind of thick, rural Irish accent. Newspaper writers definitely played this up, even in English. The Walsall Free Press reported a police court case in 1860 in which Ellen Karney (another transliteration – this could equally have been Carney, Corney, Kearney, O'Caherny, O'Carney, Keherney or McCarney) and John Goulding, "both… denizens of the classical locality of Old Meeting Yard, Dudley Street," accused one another of violence. The court reporter made great play with pronunciation:
The tenacity of life in that region must be extraordinary, for in the present case the complainant had been "murthered intirely" and defendant "kilt" with a "pokur"… [the defendant swore that he never] "murthered" her or struck her "at all at all."
Walsall Free Press, 20 October 1860
This kind of mocking reporting will be familiar to anyone who's studied representations of the Irish abroad. I hate to think what Black Country reporters would have made of trying to understand lenition or the genitive case.
Athbheochan? Revival?
In 1858, AM Sullivan's soft-nationalist newspaper The Nation introduced Irish language columns for the first time – it coincided with establishment of a Society for the Promotion and Cultivation of the Irish Language (SPCIL), in Baile Átha Cliath, Dublin. See Vincent Comerford's chapter on this – he argues that as with the Irish Republican Brotherhood (Bráithreachas Phoblacht na hÉireann in Irish, although I've rarely seen this used), founded in 1858, this was an opportunity for young Irish Catholics to socialise. The IRB was more successful though – membership of the SPCIL dropped off quickly once the amount of work it took to learn a language became apparent – although there was an early link between Irish language and Irish nationalism in the support of the Young Ireland veteran William Smith O'Brien (Liam Mac Gabhann Ó Briain) (see Ann Andrews on this). The Society taught Irish at its rooms in Middle Abbey Street, Dublin, and Fr. Ulick Joseph Bourke (Uileog de Búrca) provided simple lessons in The Nation, later published as a textbook. 
Praise poured in from The Nation's readers, including from "Salpeen Fanach" in Wolverhampton. As a pseudonym, I've yet to work out who this might be (maybe even John Coffey from the last post?), but this was an ardent supporter of the Irish language:
Sir – when I read that the Irish language was about to appear in the columns of The Nation, a variety of feelings agitated me, that I never felt before; for what Irishman can be so base indeed, as to be indifferent to the language in which are enshrined our hopes, our loves, our aspirations – all that is dear to our hearts, and flattering to our pride, from the sublime records of our ancient glories to the wailing dirge of the humble peasant moaning his sorrows o'er the mountain hearth! I marvel that a people so reputedly tenacious of the past as the Irish are, should allow their glorious language – spoken long before either Greek or Latin – to go to the dogs…

…There is in the Irish language a native strength, and masculine energy, blended with a feminine softness, which equally adapts itself to the rolling thunders of the orator, or soothing numbers of the poet; to rouse the passions or to calm the soul.

The Nation, 3 April 1858
There's such a lot to unpick in a short passage here: the correspondent's historical expression of race and nation, masculinity and femininity, etc., were wrapped up in the Irish language. Previous correspondents had found difficulty finding teachers in London or Liverpool, but Salpeen Fanach knew what to do: 
…go and accost that repulsive looking Irishman whom you see coming along the street – never mind his ragged and wretched appearance – he and you will soon forget both 'mid the sunshine of sympathy, and in the glow of genial humour and fairy love he will soon teach the Irish Tongue, and what is nearly as important, genuine Irish feeling; something racy of the soil and no mistake.
My limited language skills meant this name took some time to figure out, but I think it's another curious spelling, this time of the phrase, an spailpín fánach. The spailpín was a crucial part of the rural Irish economy, a wandering worker travelling – often to 'Britain – for seasonal work to supplement the meagre income of the farm labourer or tenant farmer. An is the definite article in Irish (there's no indefinite article) and fánach means wandering, vagrant, straying. The title is that of a song dating from the late 18th century, and came from Castleisland in Kerry, now home to Kerry airport and Denjoe's American Style restaurant (we stayed the night in Castleisland by accident on our honeymoon when muggins here forgot his driving license for the car hire). There's some background here, and a translation here. This correspondent's choice of pseudonym tugged at the heartstrings to recall the migratory experience so raw for so many at that time.
He also signed off in Irish, "siol fada le sean agad." This has caused me some difficulties. Síol = seed; fada = long; le = with; sean = old; agad is probably agat, with you. But even with rudimentary Irish and advanced Google-fu I can't get this to make sense, so I think it must be an archaic version of saol fada chugat, a long life to you.
Other correspondents in the same issue responded with similar joy, included M Ahern, who cited "Graine Mhoal" (Gráinne Mhaol or Gráinne Ní Mháille or Grace O'Malley, the utterly awesome aristocrat turned pirate who faced down Elizabeth I) before concluding with "Beanach leat a siviriacht agus a thseimse da bheaha." This is again slightly mangled, and I think the modern version would be Beannacht [blessings] leat[on you] a sibhialtacht [civilisation] agus [and] a thseimse [no idea] dá [if] bheatha [life]. Something, I guess, like blessings on you, your civilisation and your life.
Gramadach – grammar
Irish was a predominantly spoken language by 1858. The great Early and Middle Irish texts were long in the past, and business, religion and politics were almost entirely done in English now. It's no surprise that there's a huge amount of variation in a language yet to be standardised, and in many cases attempting to be revived by non-native speakers. Thus the "bh" in sibhialtacht becomes a "v" – that's the sound it makes; witness the name Siobhán. A similar example can be found in Sullivan's reports again: his guide through Wednesbury described anti-Irish violence in the late 1840s:
Them times the magistrates used to have nothing to do but trying Irishmen, and mavrone!
This is a transliteration of mo bhrón, or "my sorrow". "I'm sorry" in modern Irish is tá brón orm, literally, I have sorrow on me. The possessive pronoun mo causes the lenition of the following word, adding an h after the b to give the v sound, "mo vroan." Dependent on the vowels before and after, both bh and mh can make a "v" sound (see Niamh), but also might be (almost) silent: see Amhrán na bhFiann, the Irish national anthem, pronounced "Ah-rawn na vee-an." This example also includes ellipsis: bh eclipses F in Fiann, which refers to a group of mythical heroic warriors, so you pronounce "v" rather than "f." Similarly the th in beatha should be prounced as a soft "h," "bee-ha," hence the version above. Whiskey is uisce beatha, prounced "ish-ka bee-ha." Confused? You will be.
There are seemingly millions of rules like this which makes learning Irish rewarding, but challenging. I think I'm just glad there was no attempt at Irish script in these sources, which is just another level of complexity at this point, beautiful as it is. During the Gaelic Revival of the late Victorian era, there was a massive outpouring of interest in Ireland in rediscovering the language, and a wide range of people, often quite well-to-do, took themselves off to gaeltachtaí, Irish-speaking areas in the West of Ireland, to reconnect with their oral heritage. At first apolitical, the momentum behind this movement was soon appropriated by revolutionary nationalists and Conradh na Gaeilge, the Gaelic League, became an inseparable part of the chain which led up to the Easter Rising and eventual independence. Rising leaders including Patrick Pearse (Pádraig Mac Piarais), Éamon de Valera and Thomas MacDonagh (Tomás Mac Donnchadha) were connected with the language movement. There were Gaelic League branches worldwide, including in Britain – though I'm not aware of any in the Black Country.
After Irish independence, Irish became an official language of Ireland and part of compulsory education, and that remains the case today. Nevertheless, English remained the pragmatic choice for most administration – and this also remains the same today. Formal gaeltachtaí were created as homes for the language, but these are small areas now, and the number of native Irish speakers is very small. The most generous estimate of those speaking it everyday was 80,000, whilst 1.66m people claimed some ability in the most recent census; but in a country of almost 5m, that's not huge, and most of them would only claim cúpla focal, a few words. Nevertheless, there's a TV channel, radio stations, a thriving podcast and social media movement; and there are exciting initiatives including "neo"-gaeltachtaí in Béal Feirste (Belfast, around the famous Falls Road) and around Sleacht Néill (Slaghtneill) and Carn Tóchair (Carntogher) in southern Contae Dhoire, County Derry. So there's hope for the future of the language.
I'm positioned a long way outside all of that. There are Irish classes and conversation groups in England: Liverpool, Manchester and London, for example. But there's nothing really in the Midlands (though keep an eye on https://twitter.com/GBhrum for potential post-pandemic conversations), so quite how far I'll be able to progress in such a vacuum I don't know. Wish me luck in finding my place as a gaelgeoir, and slán!